So you are planning to take your photography skills to another level by buying a tripod stand? Or are you simply tired of buying low-quality ones every time? Well, you happen to be in the best site ever because below is a review of 7 best portable tripod stands to help you make a choice.
1. Amazon Basics 60-inch lightweight tripod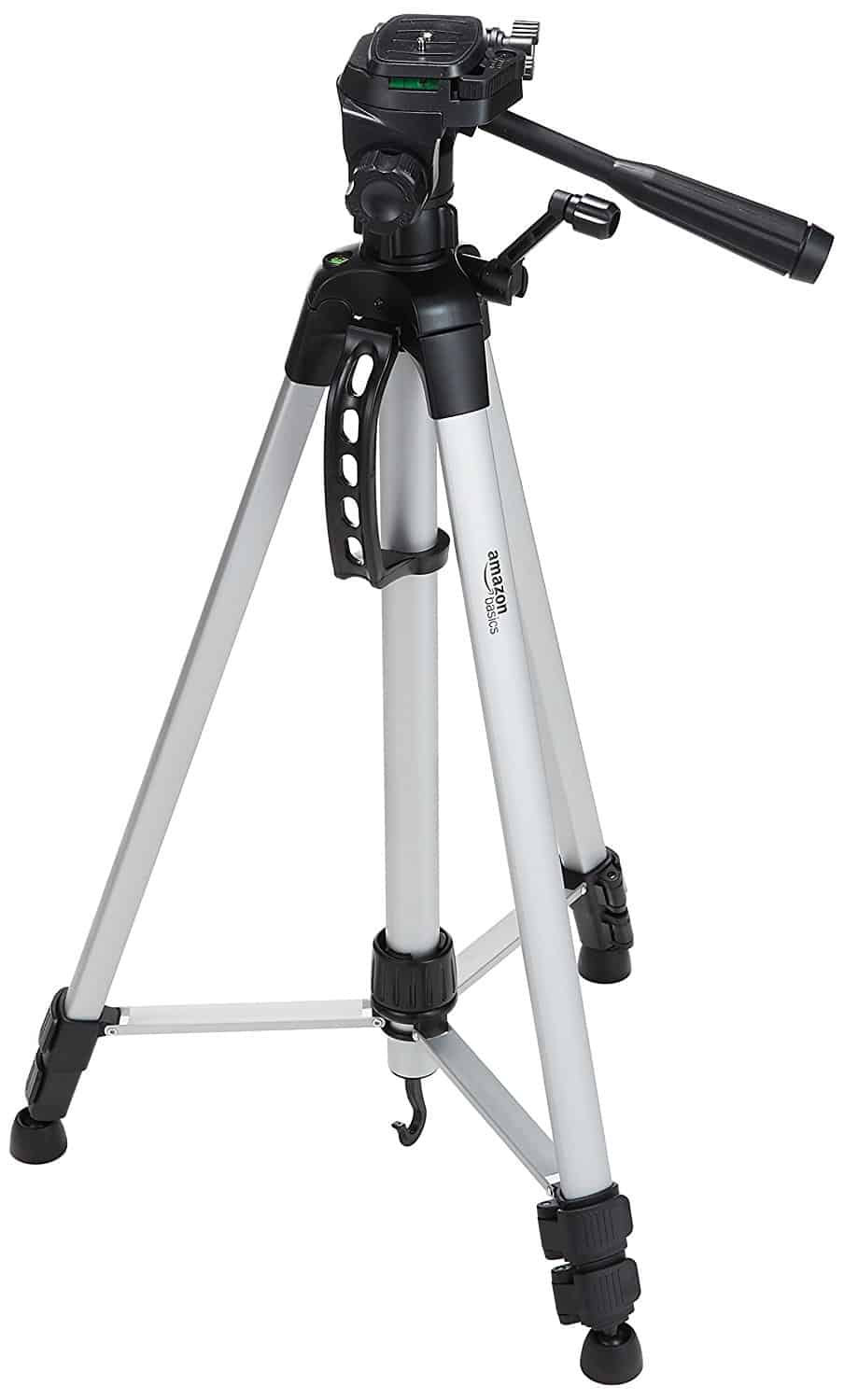 Features
When buying a portable tripod stand most people consider its compatibility, its weight and also adjustability and we are glad to let you know that the Amazon basics cater for all that. For instance, it has a high compatibility rate with most digital and video cameras, scopes, GoPro devices and even smartphone adapters. Apart from being compatible it has two bubble view levels and a three-way head which allows you to either tilt, swivel or set it in any other position you like for better shots.
Being the first portable tripod stand on our list, you can be sure that it is incredibly mobile and weighs about 3 kg's it is easy to carry it from one shoot location to another. The length is adjustable from 25 inches to 60 inches when fully adjusted which means you can reduce it while moving and then later change it when you reach your desired location. It has a quick release mounting plate which enables a smooth and fast transition in between shots. It is also easy to set both on even and uneven ground thanks to the foot design.
Lastly, it comes with its carrying case, so you can easily carry it because that is usually the hardest part about having a tripod stand. Fortunately, with the compact size and a carrying case, you can say goodbye to that. However, just like any other product, it does not lack a few mishaps and below are a few of its cons, but when you consider what you are getting and then look at the price, it is worth every cent you spend on it.
Cons
• Most of its parts are plastic which some people might not find durable
• Suitable for beginners because it cannot support bulky cameras
2. ZOMEI 55 Compact, lightweight travel portable folding tripod
Features
Weighing approximately 2.6 kg's, the Zomei portable tripod stands is also another affordable yet feature-packed stand. For instance, it supports up to 11lbs. Which means it can support most devices as they are barely that heavy and is adjustable up to 55 inches hence you don't have to strain while recording or taking pictures. It has a flexible pan head which tilts up and down and also left and right, therefore, enabling you to capture shots from different angles.
As for stability, it will cause you no problems once you set it up thanks to the center column which has a hook that you can use to add extra weight and ensure it balances. Additionally, the foot design also adds up to its stability.
Cons
• Rigid pan hence adjusting its position can be a little difficult
• Again it is not suitable for bulky devices which means you cannot use it with the bulky professional cameras
3. Albott 70 travel portable DSLR tripod stand
Features
The Albott 70 portable tripod stand is compatible with most digital cameras, GoPro devices, camcorders and other gadgets which weigh 8.8 lbs. And below. It weighs 3.63 pounds. Only which makes it extremely lightweight and has an adjustable center column which can be adjusted from 18 to 65 while in use and vice versa when you are packing it. It has a carry handle as part of the design to enable comfy mobility and has a center column hook for better stability and foam grips on the base.
Additionally, it boasted a 3600 rotation and built-in bubble view levels which means you can take shots and record videos from any angle. It also has a quick release plate and a whole bunch of accessories which make using it a walk in the park such as a telescopic panhandle, a carrying bag, locking mid-level spreader and a few others.
Cons
• Weak head
• It has a weight limit of 11 pounds hence suitable for beginners or recreation but not professional activities
4. Zomei z66 professional portable tripod stand
Features
Similar to the other zomei product on our list, the Z666 portable tripod stand is also durable since it's made of top-notch aluminum alloy tube and some parts are of high-quality environmental plastic. Its feet are of soft rubber which enables it to remain steady in both tight spaces and also on uneven surfaces. Thanks to its 25 mm when setting up it effortlessly glides in and out in the position you want it to remain on. It is lightweight and has four adjustable sections on the legs which only means you can set it on any place you find suitable from 18 to 55 inches.
Also, it boasts 360 degrees panning thus you can take photos and record videos from any angle. There is also the center column hook which further enables you to add more weight for balance purposes. Lastly, it has a carrying case which allows you to quickly pack it when going on long-distance shoots and thus keep it safe. It comes with 12 months of warranty for quality assurance purposes.
Cons
• Suitable for recreation purposes or beginners
• The rubber pads on which the camera rests come off easily
• The plastic parts break easily
5. Albott 64 inch travel portable tripod stand
Features
Fifth on our portable tripod stands list is yet another Albott product. It has its share of unique aspects such as a flip lock for leg height adjustments which ensure that once you set it to a specific height, it will remain the same until you are done. It comes with accessories such as a carrying bag which enables you to pack and store it quickly once you are done and a telescopic handle for those who like watching the stars and galaxies at night. It has a 3-way adjustable pan head which automatically means you can rotate it to any angle within 360 degrees and is quite lightweight as it weighs 2.64 lbs. only.
It, however, has a load capacity of 8.8 kg and thus, it will not work with the heavy photography equipment. It is compatible with any digital camera, Binoculars, telescopes and a diverse range of other photography or exploration gadgets. It also has a quick release plate and inbuilt bubble view levels.
Cons
• Non-removable head
• The plastic parts can break easily
• Again it is meant for lightweight devices and cameras only
6. Camoporo 70 inches professional digital SLR portable tripod stand
For an extremely fair price, you get a portable tripod stand which is not only lightweight but one which doubles up as a tripod and a monopod. It is easy to switch between these two modes by simply opening the column lock and lifting the center one. Apart from that is has four adjustable sections which mean you can set it according to your suitable height. In tripod mode, it is adjustable from 21 to 70 inches while in the other mode it is adjustable from 18 to 65 inches. It is made of aluminum alloy thus you can be sure about its durability while its three-way head design enables you to switch the position of your camera to any angle you think is suitable and take a shot.
Lastly, the legs are made of non-slip rubber which means you can set it on any ground whether cemented or not and still expect it to function without swaying or slipping while the hook system on the center column further enhances its stability.
Cons
• It lacks a foam grip head which means it is not easy to rotate and set it in different angles as it is rigid
• Some of the plastic parts tend to break easily
7. Tairoad T1-11 Tripod 55 aluminum stand
Closing our seven best portable tripod stands list is a product which most people love thanks to its professional look and also features. It comes in several colors which include gold, blue, orange, red and black, so you have several options and also the choice of choosing according to what you love. It is a lightweight stand and durable one as it is made of aluminum alloy tubes and a few parts of plastic. Plus it comes with its carrying case so movement should be the last of your worries. It is termed a universal tripod hence compatibility should not worry you because it will efficiently work with any camera, GoPro device, scope or any other device you deem suitable.
However, you ought to be careful with the weight of the device you are using as it has a load capacity of 5 kgs. Thanks to the ball head design of the feet, you can set it on any surface, and it will remain stable, and if you think your camera is way too heavy, it has a hook on the center column on which you can hang extra weight for it to balance. The legs are also adjustable thus allowing you to set it to your desired height as you shoot.
Lastly, it comes with a one year warranty for quality assurance plus the customer care team is highly responsive hence if you have any problems you can easily contact them. Just like the other products on our list we let you know about its downsides so that if you happen to encounter them, you can quickly sort them out with the manufacturer.
Cons
• Not suitable for heavy devices
• There have been several customer complaints regarding the center pole being too stiff
• A little too lightweight
In a nutshell
All the above portable tripod stands have one thing in common; they are easy to pack, carry and store and also at the same time they help the buyers try out new photography skills at an affordable price. Although they have a list of buts, the positives outweigh the negatives, and for the price, you get to enjoy features which are present in more expensive ones. However, they are suitable for people looking for fun or who want to excel in their photography because they offer an affordable way to venture in that field.