Do you have a huge pile of laundry waiting for you in your house and a mere thought of it just stresses you? Then stress no more because with the myriads of laundry machines in the market today, laundry should be the least of your worries. To add on that, you do not have to buy the old bulky ones and neither do you have to break your budget because there are plenty of portable ones ranging from $100 and below. Who has the time to do laundry manually when these compact yet highly functional machines are in the market? Read through our list of top ten best portable washing machines under $100 to find one which suits you most.
1. Upgraded version Pyle portable washer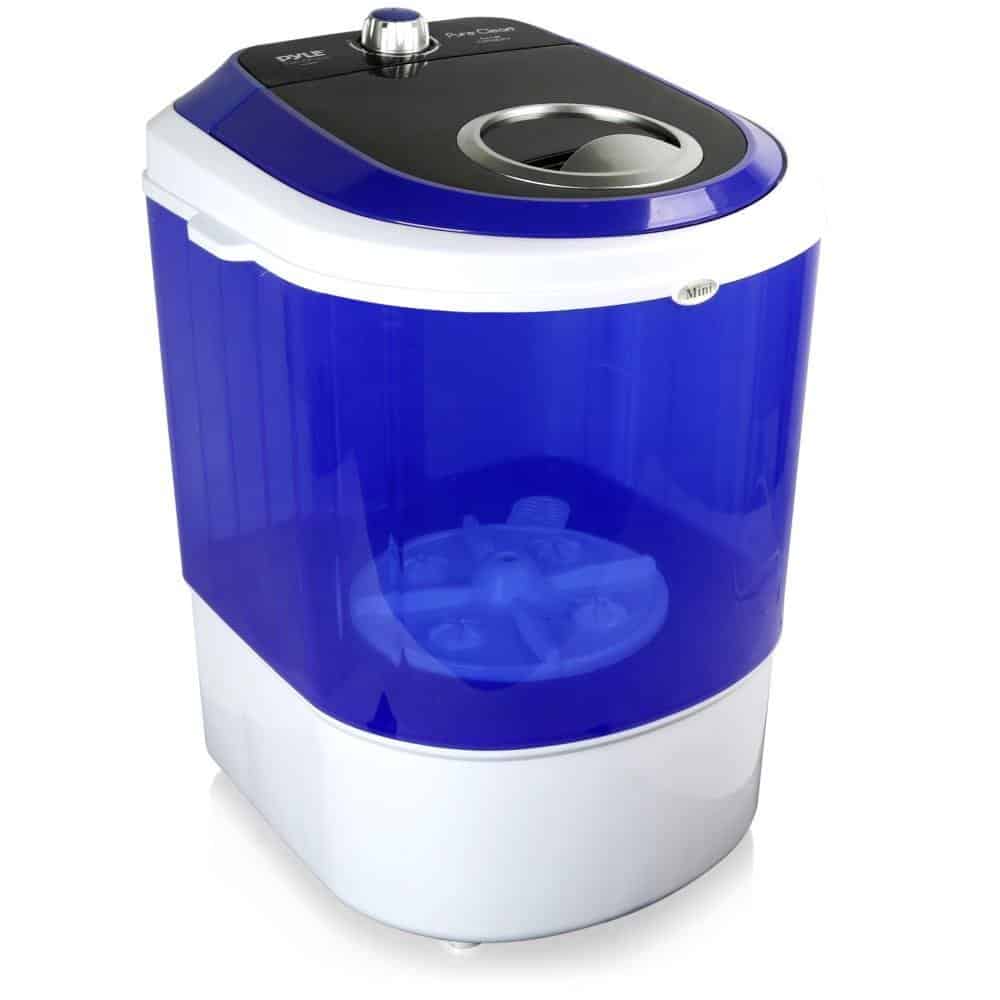 Getting a portable washing machine that comes with a perfect price, good looks and functionality have never been easy and that is one reason why you should consider this is as one of the best portable washing machines. Just like its looks, it does not disappoint when it comes to performance. For instance, you do not need to be a pro to use it thanks to its top-loading system. All you need to do is connect it to a power source and then load the detergent and you will be good to go.
Additionally, it puts you in control thanks to the timer. It runs on a 180-watt motor which means it has the capability to clean and retain the quality of your fabrics. The water tank capacity is at 19 liters and has a load capacity of 4.5 lbs. which is quite high for a mini-washing portable. Unlike the ordinary washing machines, it requires no assembly so it's good to go as soon as it's about the box. Nevertheless, it's not suitable for heavy outfits or hard fabrics like jeans but otherwise, the high ratings and positive reviews online are enough assurance that it will not disappoint.
2. Rovsun Portable washing machine with twin tub
Coming second on our top ten best portable washing machines is yet another innovative product which you will love. It boasts a long string of features which when you consider its price is quite a top notch. For example, it boasts a smart and compact design hence suitable for people who live in small spaces. Thanks to its smart design, it uses less detergent and water hence saving you money and at the same time offering efficiency. It runs on a 1300 rpm which ensures a totally clean and has both the spin cycle timer and the general timer.
Additionally, it has a high capacity and can hold up to 10.4 lbs. in one wash. Some of the special functions which take your laundry a notch higher include washing and dehydration, spin wash and dry, stainless steel among a few others. Thanks to its top of the shelf performance features, many buyers are so far satisfied with its functionality and hence no deal breakers.
3. Giantex portable compact 13 lbs. mini twin tub washing machine washer
The Giantex portable washer is designed to make your life better by ensuring that laundry is the last thing you have to worry about. For instance and as the name suggests, it has two tubs in which one is designed to wash only while the other one spins the garments dry. You also don't have to be all tech-savvy or an expert to use it as it has separate timer settings to make it easy for you to operate both tubs. It has a drain machine which means you no longer have to worry about dirty water changing the color of your clothes as it will automatically drain. It runs on 110 v and the washing tub has a load capacity of 8 lbs. while the other one has 4.5 lbs. It's available in black and white and comes in a compact size hence you can use it effortlessly even in tight spaces. Generally, the Giantex min washer is worth every shilling that you spend on it even though you may find the power cord way too short, it is a home appliance you can rely on for your laundry.
4. Kuppet Purple Electric Mini Portable washing machine
Coming with an excellent purple color and an elegant design, this mini washer is not only good in appearance but also in functionality. It features a twin tub design which makes it easy to operate and also clean your clothes efficiently. It has a capacity of 11 lbs. thus will help you reduce the pile of clothes lying in your laundry basket. It has a compact size which means you need not live in a big apartment just to have your clothes cleaned well. Lastly, it has a timer control which can be controlled up to fifteen minutes for each load as well as five more minutes for the spin timer.
5. Costway Portable mini washing machine
If you are looking for a mini washing machine which features a compact size, is both easy to use and is user-friendly and additionally visually appealing, then the Costway Portable mini washer is just what you are looking for as it fits the description perfectly. It prides itself on a clear lid so you can monitor what is going on while you do laundry. It is a single tub washing machine and is not complicated since all you need to do is throw you clothes in there, set the timer how you want and press the start button. What's even better is that it has a drain tube thus you don't need to stop the process midway to drain dirty water as you can easily do so through the tube. The timer runs for ten minutes during washing and a five minute run for spinning. Although there have been few complaints about it not working after a few days, that should not cause you to turn away as its highly responsive customer care team can easily resolve such issues.
6. Giantex Portable mini washing machine
With dimensions of 22.6 by 14.0 by 22.2 in terms of length, width and height respectively, the Giantex is another best portable washing machine under $100 which you should seriously consider. That's because, for its affordable price, it packs quite a number of features which will make your life easier. Some of these incredible features include gravity drain, spin dry and wash, and a design which uses less detergent and water to not only save you money but also space. Lastly, it is more convenient thanks to its easy operation and uses less power. Nevertheless, just like any other best portable washing machine, it does not lack a few of its downsides and in its case, it is made of plastic which is not quite durable. Nonetheless, when you consider its price and functionality, it's worth purchasing.
7. Best Choice Products portable compact mini
Best choice has a reputation for bringing innovative products to the market and this one is no exception as it also packs a few of its beneficial features which you will definitely love. For example, unlike other portable mini-washers, this one has quite a high capacity and can comfortably wash up to 8 lbs. of laundry. Thus saving you time and thanks to its compact size, space. It features a twin tub design and a timer which runs for 15 minutes for the general wash and five minutes spin cycle for each load. To ensure that your clothes are completely cleaned and they also retain their fabric quality, it boasts a 1300 rpm motor which powers the machine to ensure that you arrive at similar results. So far so good and the ratings and positive reviews online are just but an assurance of its quality. However, it's made of plastic which most people might not find durable.
8. Giantex portable compact mini-washer
Available in black and white, Giantex portable mini-washer, features two tubs both each one of them serving a different purpose. Being a mini-washer, it has medium 4.5 lbs. spinner capacity and 8 lbs. washing load capacity so you will spend minimal time doing the laundry. In addition, one tub is meant for spin drying while the other one is for washing so you can use as little time as possible doing the laundry. Additionally, it's flexible and can be used anywhere from the dorm to an apartment and to top it up, it's not noisy. However, you may find the drain and inlet pipe quite short but otherwise, it functions just perfectly. All you need to do is take care of it well because at the end of the day it's a home appliance like any other.
9. Della Small compact portable washing machine
Going at a price of approximately $100, Della has a capacity of 11 lbs. and is suitable for people looking for a simpler lifestyle of not doing laundry constantly such as students or people who are always busy. Like the other portable mini washers on our list, it is easy to operate and all you need to do is throw in your clothes and then set the timer. It is a twin tub with one side meant for washing while the other one is for spinning. Unfortunately, it is only suitable for delicate fabrics and not heavy materials like jeans.
10. Della mini washing machine portable compact washer
Closing our list of the best portable washing machines is another mini washer from Della. It features a clear lid which allows you to keep track of what is happening inside the washer and also the volume of water inside it. It boasts a 15-minute timer for the washing and a 5-minute timer for spinning. It uses a normal power outlet so can be used in almost any environment and additionally does not consume a lot of power. Unfortunately, there have been complaints of leakages but plenty of positive verified reviews are an assurance that it will not disappoint you.
Conclusion
In a nutshell, each of our top ten best portable washers has its own unique aspect which will work better for you and not for someone else. Therefore, it all comes down to your needs and expectations. For instance, an 8 lbs. mini washer will work for you but not for your friends. Hence consider your needs because the price is already highly affordable and all the min-washers on our list are top notch. Feel free to share this link with your friends and family on various social media platforms to help them make a selection of one which suits them easily.